How to Post Videos on Twitter in 3 Best Method [Twitter Video Converter]
This is the most comprehensive guide to posting videos on Twitter. It's more comprehensive than even Twitter's!
We'll give you the powerful FREE tool to prepare ANY video on the planet for Twitter upload.
In short: if you want to impress your Twitter followers with cute videos, go ahead!
For those who hurry up and already know a lot about Twitter video requirements,
here is a magic pill to get your videos ready for Twitter: Free Twitter Video Converter

This tool will help you cut & convert your clips to meet Twitter video requirements.
Follow the chapters below to learn more about Twitter video upload & posting.
WHERE IS THE MAGIC TWITTER BUTTON TO UPLOAD A VIDEO?
Twitter is one of the top social media networks in the world. Like other social giants, Twitter allows its users to post and share any kind of visual content, including videos.
The stats say that since early 2016, tweets with video have increased by over 50%. It's clear why. Posting videos to Twitter lets share even more content than we can fit into a text-based tweet with 280 character length limit.
There are dozens of means to produce videos for Twitter. You can upload your camera footage from a PC or smartphone, or you can use a link from a site like YouTube to embed third-party videos.
However, it's not that easy to post videos within tweets as it could seem. A lot of users simply don't find that very button to upload a video. Let's figure out how to post a video on Twitter!
HOW TO POST VIDEOS ON TWITTER ON PC THROUGH A WEB BROWSER?
Follow the steps below to upload & share a video onto Twitter from your Windows computer, Mac, or another desktop device.
READ ALSO: How To Merge Videos In Windows 10 Using the Built-In Photos App
Step 1. We hope you've already registered a social media account on Twitter. So go to https://twitter.com and log into your account. You'll be automatically directed to the Home tab.
Step 2. Find the What's happening bar at the top of the screen. To add a video, select the Gallery button straight below that text.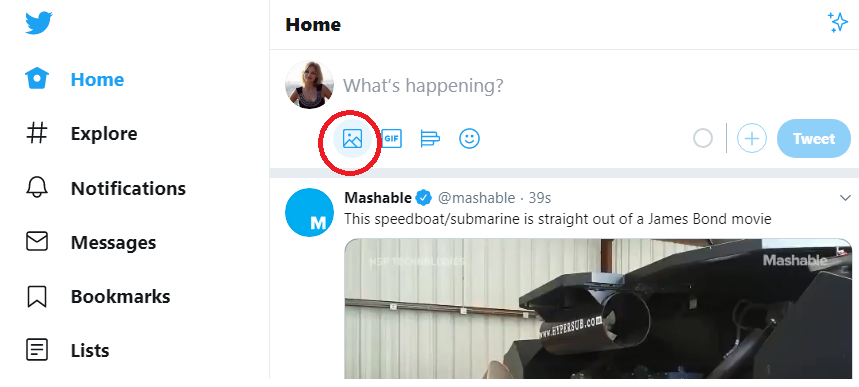 Step 3. Browse for the video you want to upload, and then click Choose.  By the way, you may easily preview the video before sharing and even delete it by clicking on the cross sign.
Step 4. Add some explanatory text if needed. Then click the Tweet button and wait for some time while the video is being uploaded and published.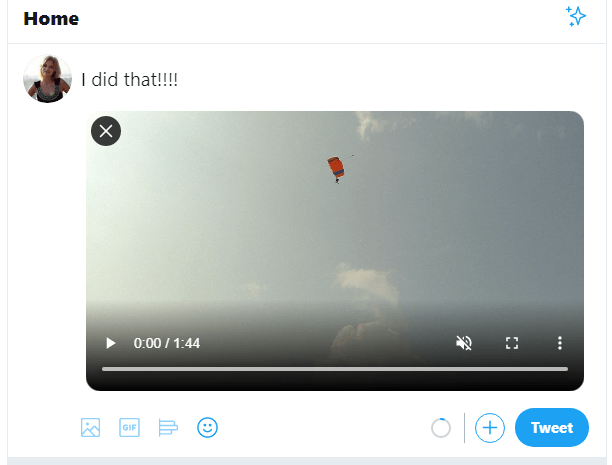 Now you can enjoy your new tweet with the video copy!
This is an ideal scenario occurring when your computer video meets all Twitter requirements.
If the video upload hangs or hitting the Tweet button results in an error message, you have to fine-tune your clip for tweets.
Does this sound familiar?
Great news!
Here is an awesome troubleshooter gave below, just go here!
HOW TO UPLOAD A VIDEO TO TWITTER FROM A MOBILE APP?
You can also post videos to Twitter from your mobile phone (iPhone, Android, Windows Phone) or tablet via the official Twitter application. Follow the steps below to upload and share a video to Twitter from your mobile device.
Step 1. Install the Twitter app on your mobile gadget and sign in. Please note that Twitter app is available for iOS, Android, and Windows Phone.
Step 2. The process is the same as on the web. Click the pencil icon to add a new tweet.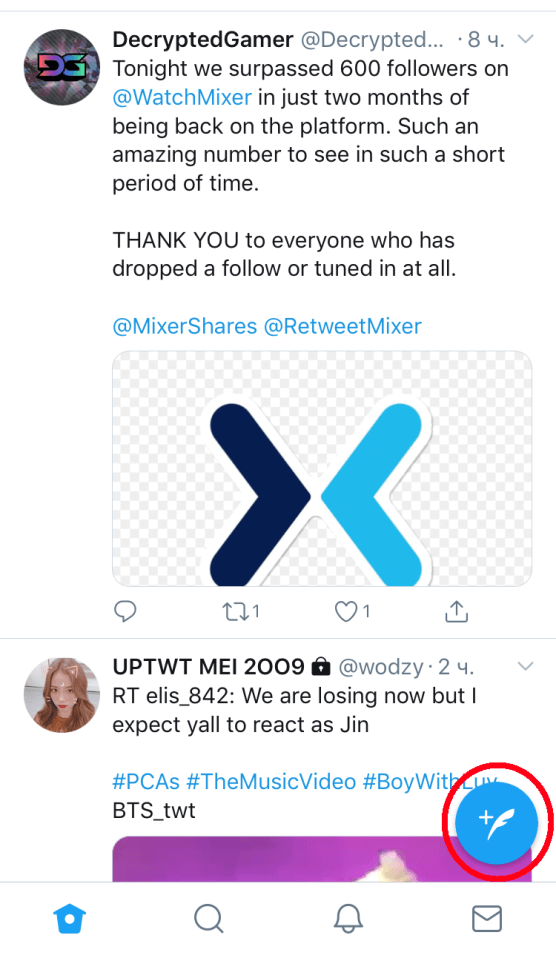 Step 3. Tap the gallery icon to import a video file from your device. If the video too long for Twitter, you may trim it before posting.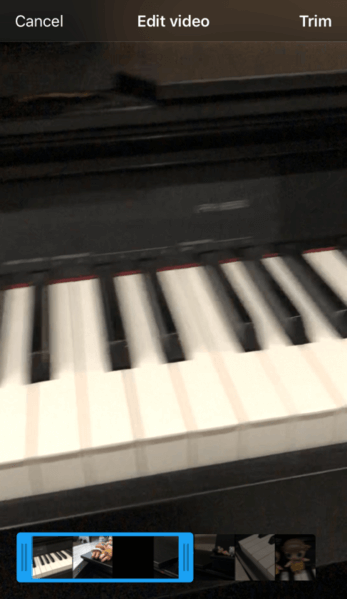 Step 4. Add some text. Click the Tweet button to send and post your video straight to your followers' online timeline.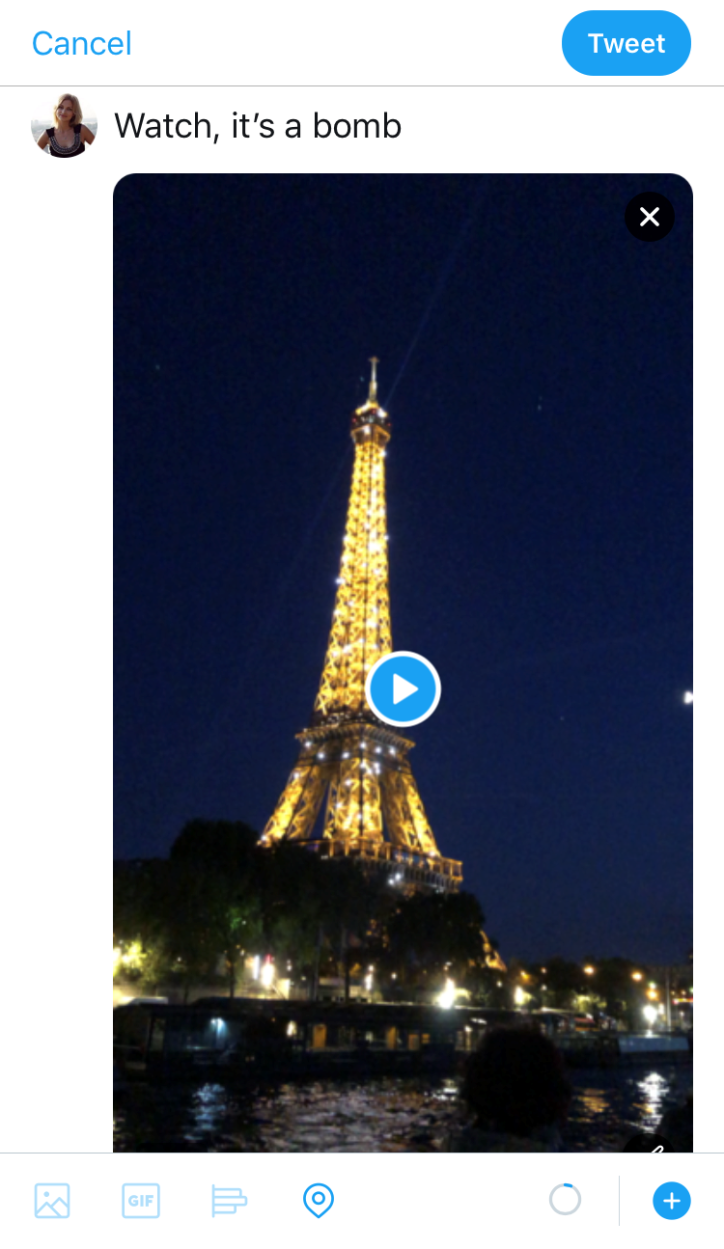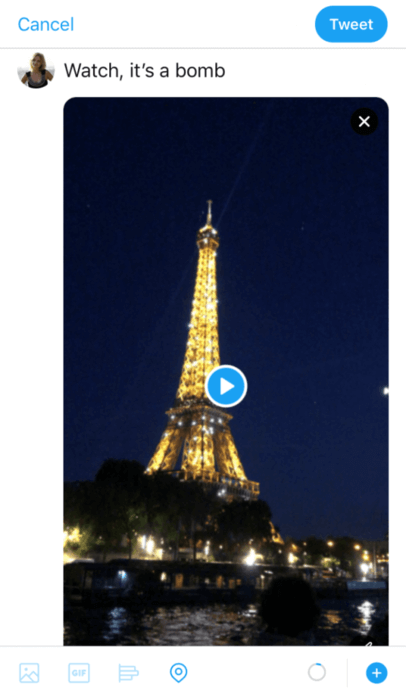 There are two ways to create a new video directly on Twitter, and both are available from the Twitter app only:
recording a video;
going live.
You'll find these options to do either one of these when you click the icon to add a photo or video within the tweet interface, as shown in the screenshot below.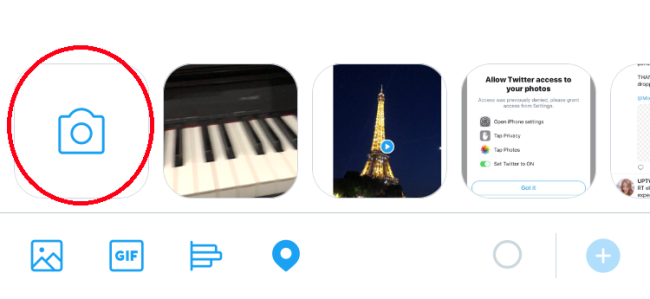 To record a video, you may need to enable Twitter's access to your Camera or Photos app, which you can do via the Twitter tab on the main page of your phone's Settings app.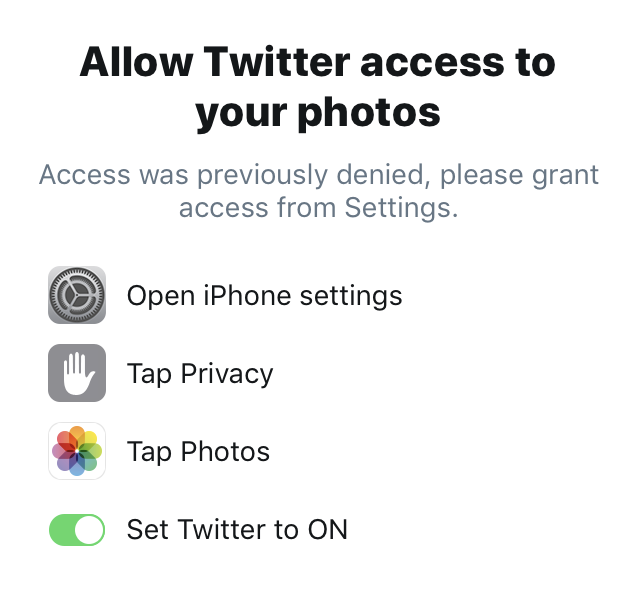 That's all you need to know about video uploading to Twitter from a mobile app! Now it's your turn to upload videos to Twitter in that easy way.
WHAT VIDEOS DOES TWITTER ACCEPT?
It's effortless to post videos to Twitter from an app as the videos on your phone or tablet are already in the Twitter-compatible format.  You don't have to do extra manipulations with them before upload & posting.
The other case is with desktop videos. They can be in the majority of formats, including the rare ones. So before publishing your next video to Twitter social media via a web browser, make sure you know the following requirements.
TWITTER'S VIDEO UPLOAD REQUIREMENTS. HOW LONG CAN A TWITTER VIDEO BE?
Supported video format: MP4 with H.264 video codec & AAC audio
Resolution: the minimum 32x 32 / the maximum 1920 x 1200.
Maximum length: 2 minutes and 20 seconds
Maximum file size: 512 MB
What does it all mean?
If your desktop video is in AVI, WMV, MKV, MTS, FLV, 3GP, MPEG, VOB, SWF or any other format except for MP4, Twitter won't accept it.
In case you have an MP4 video with codecs different from H.264/AAC (for example, MPEG4 or MP3), Twitter won't add it.
If you want to upload a video longer than 2 minutes and 20 seconds, Twitter won't publish it. And there is no built-in tool to trim the video content on Twitter's website! That's the only answer to the question: "How long can a Twitter video be?".
READ ALSO: How To Hide Files In Your Android Phone Without Third-party App
In case the file size of your video is greater than 512 MB, you won't be able to post it on Twitter.
And there several other cases when it doesn't make sense to send a video to Twitter from PC because of the above requirements.
HOW TO PREPARE A VIDEO FOR TWITTER UPLOAD?
If your video is not compatible with Twitter, you may quickly transform it to share in your tweet using Freemake Video Converter.
Download the tool here, it's FREE!

Why you should try this Twitter Video Converter?
you will easily make a video perfect for any mobile device, platform, or another goal;
with hundreds of supported formats, you needn't worry that your video won't be accepted;
you will save a lot of time as the tool works very fast and has an intuitive interface;
after changing the file with this tool, you will be able to post high-quality video;
already 93 million people convert their files with Freemake today!
Now follow the instruction below to prepare your video for Twitter upload.
HOW TO CONVERT A VIDEO TO MP4 FOR TWITTER?
Step 1. Install free video converter to MP4 on your Windows PC. The supported OS's are Windows 10, 8, 8.1, Vista. The program will start automatically after the installation.
Step 2. Add your video into the software via drag-'n-drop or select the +Video button. Freemake supports 200+ video formats, both popular and rare ones.
Step 3. Choose the MP4 option on the bar at the bottom of the Twitter video converter. The new window with profile settings will open.
Step 4. Choose the Same as source or other preset which has H.264, AAC codecs.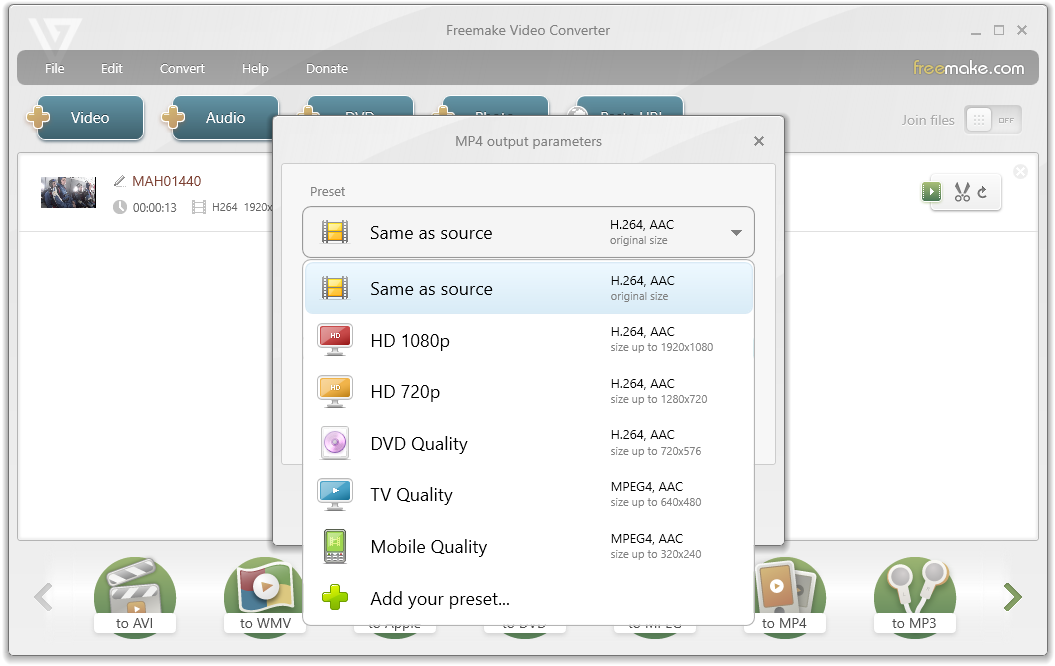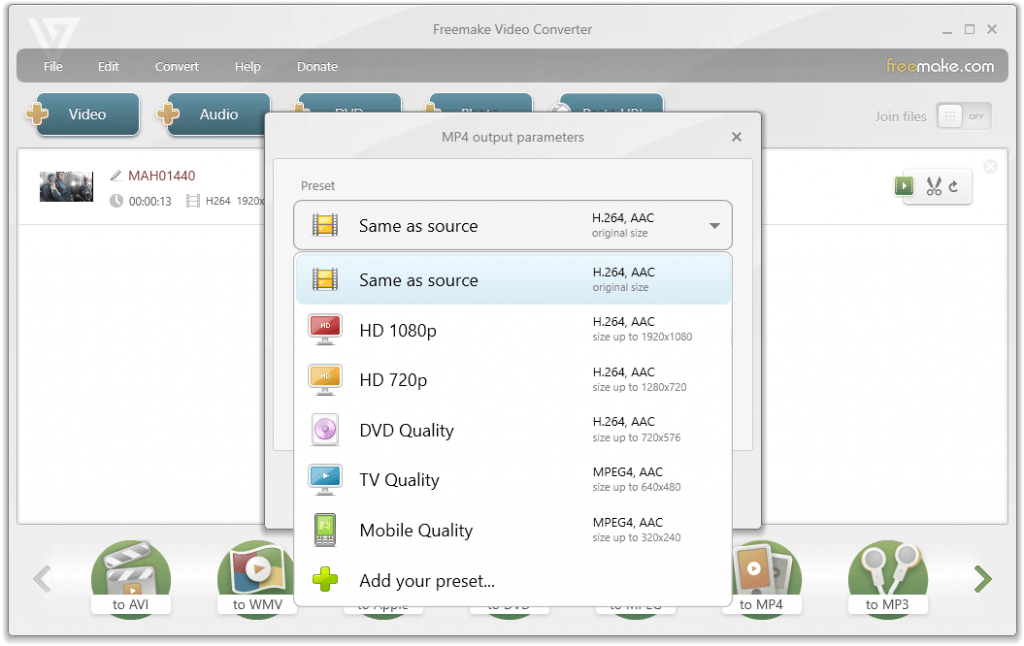 Step 5. Click Convert and get your Twitter-ready video! Now you are able to post this video on Twitter or elsewhere on the Web.
HOW TO TRIM A DESKTOP VIDEO FOR TWITTER UPLOAD?
If your video is longer than 2:20 min, you will need to trim it for Twitter.
Just follow the steps below or read this detailed tutorial to cut the video.
Step 1. Install & run Freemake Video Converter.
Step 2. Add your video to the program.
Step 3. Double-click the video file line in the software main window to open the editor.
Step 4. Put the markers of the start and the end of the video sequence you want to delete and click the scissors sign in the middle of the Cutting bar to cut the selection.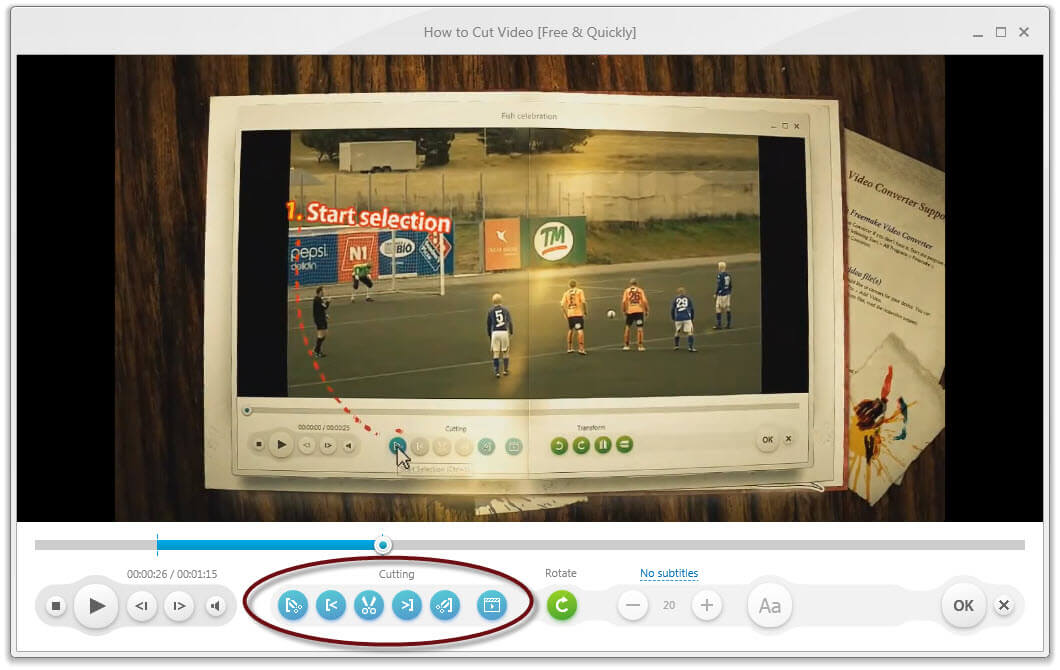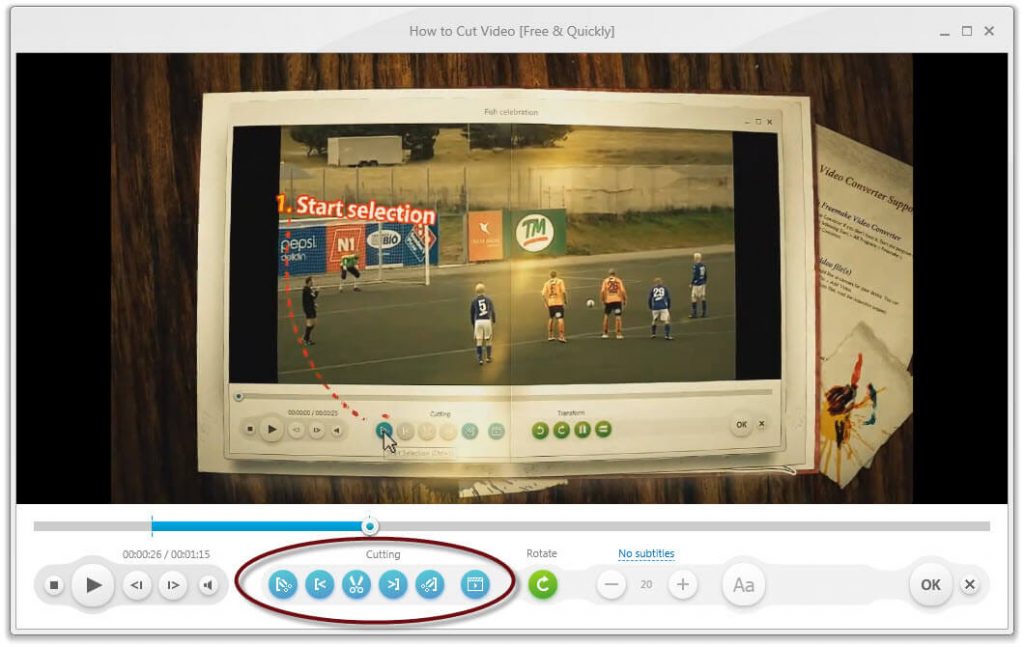 Step 5. Don't forget to click OK to save the desired length. Then choose MP4 format, a preset with H.264/AAC codecs, and click Convert.
Then you can easily import this file onto your Twitter account and share it with followers.
HOW TO COMPRESS A VIDEO FOR TWITTER POSTING?
In case your video is larger than the required 512 MB, you may compress it again with the Freemake tool.
Step 1. Paste your video into the program.
Step 2. Choose the to MP4 option on the formats menu.
Step 3. In MP4 settings pay attention to the weight sign right above the Convert button. Click it and type 512 into the field as shown below.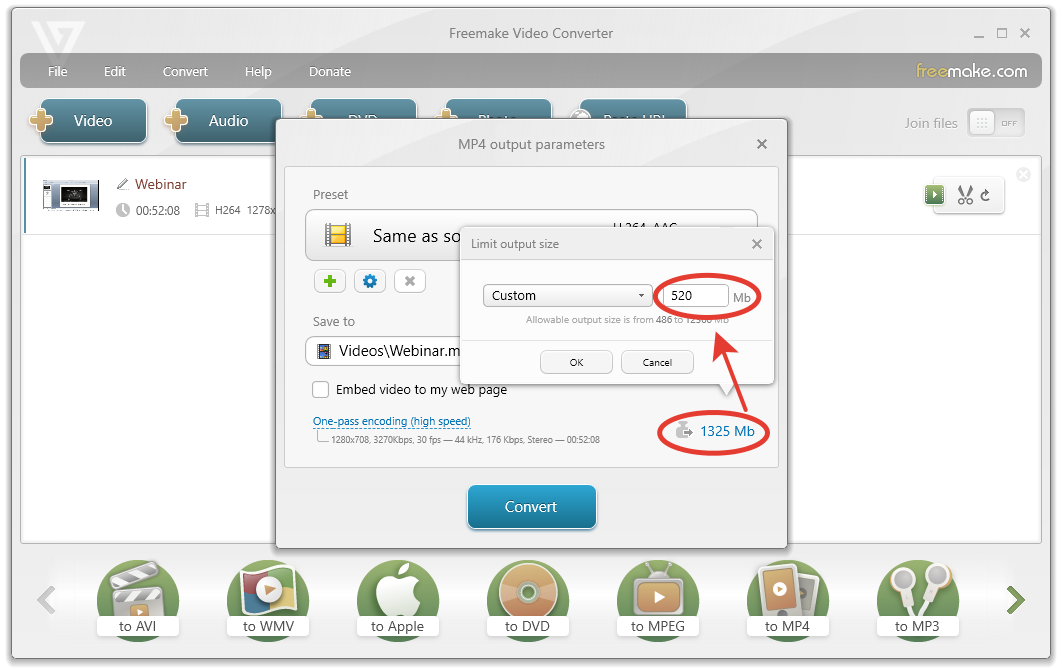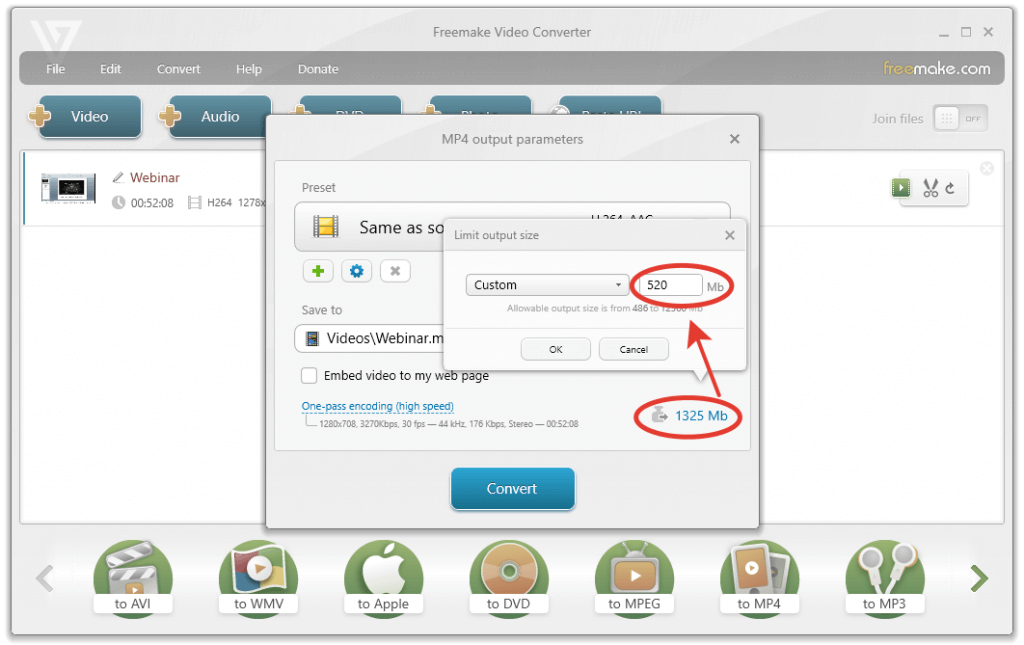 The video converter for Twitter will automatically adjust all other settings (bitrate, frame rate) to that limit. Video resolution won't be affected.
Step 4. Choose a preset with H.264/AAC codecs and convert the file.
That's all! Now your clip is ready to be uploaded to Twitter. Just don't forget to embed an incredible text describing your experience.
SEE ALSO: How to convert MOV to MP4
HOW TO EMBED YOUTUBE VIDEO IN A TWEET?
Outside of native uploads, you can share a third-party video on Twitter. For example, you may embed videos from platforms like YouTube into a tweet by merely copying URLs. You may use this way to post long videos as Twitter-length requirements don't apply here.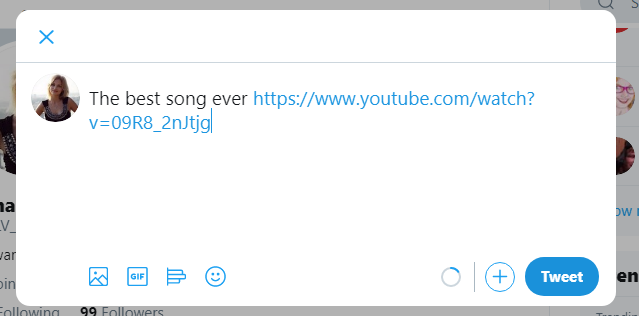 Note here that the video preview will be added automatically. Do not use a social media scheduling service (like Hubspot, Buffer, etc.) or the thumbnails may not display correctly.
SEE ALSO: How To Convert Mp4 To Mp3 On Android Phone Without Any Software
Conclusion:
Twitter is a great platform allowing you to share all sorts of incredible media content with your followers. We hope that after reading this guide & trying our Twitter video converter, you won't have any further questions about Twitter video upload & publishing. However, if you still do, please ask them in the comments below! As well as please share your posted videos.