How to Delete Marketplace on Facebook?
Facebook is not just a social media platform. They also introduced many other useless items that no one requested. Facebook Marketplace is an example of such a thing. It is often used to scam people or sell objectionable products. On public forums, I saw many people complaining about these incidents. A subreddit revealed that a man was trying to get rid of the Marketplace section on Facebook.
I'm sure you are also annoyed by the fake products and the whole Facebook Marketplace thing. Don't worry, because I will help you remove Facebook's marketplace completely.
READ: How To Change Facebook Name Before 60 Days-trick 
What is Facebook Marketplace?
Facebook Marketplace is a section of the Facebook app that was created to assist small businesses in selling their products to locals. Facebook introduced it in October 2016. It quickly became another platform for scammers looking to loot people.
Many cases of people being scammed by Facebook Marketplace have been reported. Facebook has not made any changes to stop this from happening.
These are some scam reports from Facebook Marketplace.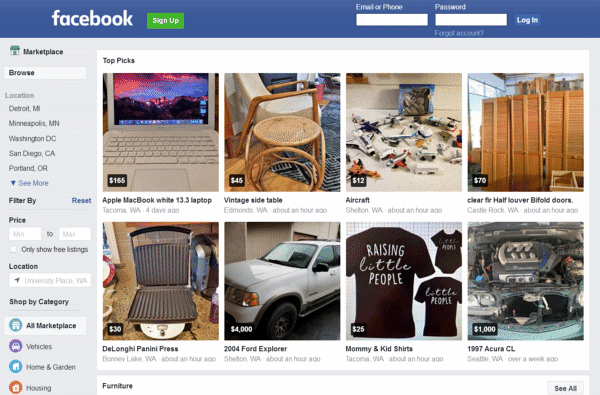 You will most likely want to remove the Facebook Marketplace section from Facebook.
How do I remove Marketplace from Facebook?
Follow these steps to delete Facebook's marketplace:
Step 1: Launch the Facebook app on Android
Android users will need to open the Android app drawer and click on the Facebook icon to open the Facebook app. Once the Facebook app is opened, you will reach the home section (NewsFeed tab) of the Facebook app.
Step 2: Go to the Marketplace Section
After you have opened the Facebook app, the Homepage or NewsFeed will appear. You will need to go to the Marketplace section of the Facebook app.
Step 3: Tap and Hold the Marketplace icons to open more options
To open the Marketplace settings, tap and hold on to the Marketplace icon once you have moved to it.
Step 4: Click on Remove Marketplace Shortcut
To remove the Marketplace tab from the Facebook App, you will need to open the Marketplace settings options.
SEE ALSO: How to Contact Facebook Ads Manager Support Team
Step #5: Confirm to remove Marketplace from Facebook
After you have chosen to remove Marketplace from your options, you will be asked to confirm that you did so. You can now delete it.
Conclusion
Facebook Marketplace was created to allow small businesses to sell their products on social media. However, the site is now full of scammers. It is better to turn off Marketplace than fall for the scammer's trap. You can also go to your local shop and purchase the items you need.