KICKCUBE v3.2 – Membership & User Content Sharing Theme
KICKCUBE WordPress theme is a fresh and simple way to share and show the story of any subject with all media, including music, videos, and photos. KICKCUBE – Membership / Community & User Content Sharing Theme will allow your users to create posts directly from the front-end. Your users can create, edit, view, delete, and show the story to everyone. Premium users have the option to redirect to the homepage.
KICKCUBE – Membership / Community User Content Theme
Insane Product Created by ThemeForest Elite Author.
1-click demo installation ( video ).
Automatic, free theme updates.
Premium Membership.
Article Link Source with a redirect.
Instantly Publish Post for premium members.
Premium Content ( demo ).
Beautiful Pricing Table ( demo ).
Default Pagination or Infinite Scroll ( infinite scroll demo ).
Frontend User Content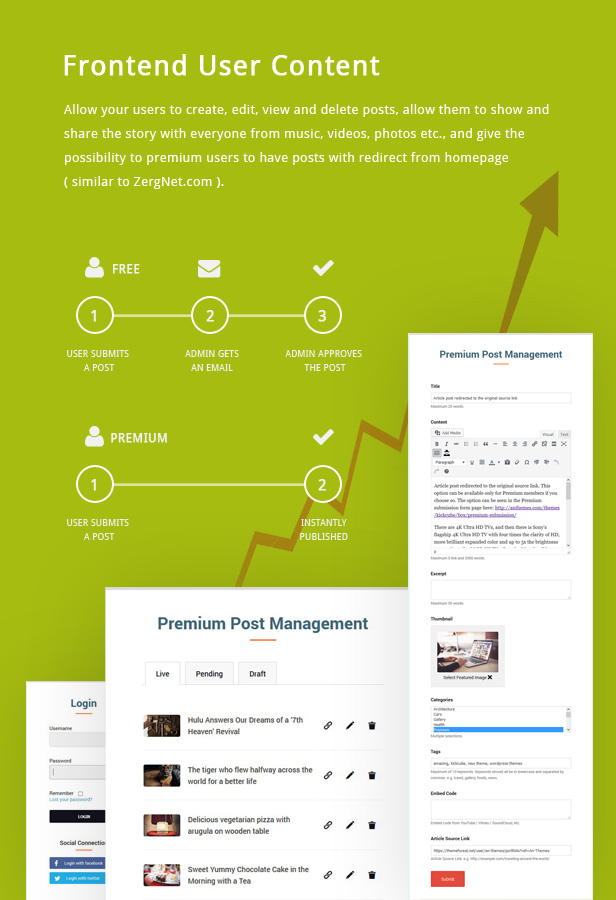 If you want to give your users the ability to create posts from the front-end area then KICKCUBE Theme is the perfect solution for you. It comes with a simple drag and drop interface for easy form building. Also, with the 1 click demo installation, you'll have the same configuration for the Frontend Publishing forms you see in the demo.
Unlimited Forms
Create unlimited forms, each with its own settings and restrictions.
Post Management
Allow users to view, edit and delete the content they have created.
Instantly publish posts by
Administrator, Editor, Author, Contributor, Subscriber. The post submitted by these roles will be published instantly. You can check and choose the ones that will have this amazing feature, enabled.
CopyScape Integration
Make sure every submission is completely unique by passing it through CopyScape.
Email Notifications ( User )
Send thank you messages to contributors and get notified whenever a submission is made.
Email Notifications ( Admin )
Send email notification to admin to get notified whenever a submission is made in order to approve the free submissions. For the Premium submissions, you can enable the Instantly publish posts option.
Layered Security
Make sure only real users can submit content with the help of captchas and hidden nonce fields.
Post Types
Quickly create forms for any post type. Custom taxonomies are also fully supported.
You can create unlimited forms with your own settings and restrictions. The pricing demo provides a great example of how to use the settings, and how to limit some of them depending on membership. 
Use Title Words

Add min/max words.

Content




Add min/max words.

 

Follow / NoFollow all Links

 

On / Off Media Button

 

The maximum number of links that a user can add to the post content.

Categories




Simple Selection (1 category)

Demo submission

Allow multiple selection demo

 

premium

members:

 

You can add/remove any category, or multiple categories.

Tags Max Count




You can set the minimum and a maximum number of tags that you want to allow users to enter.

 

For free members, you can add less, and for premium members, more.
We also have a complete list best content-sharing WordPress themes and frontend submissions from our shop, in case you need something other than a KICKCUBE theme.
Premium Content/Membership (an additional plugin)
You can make a lot of money from your website by selling memberships. Restrict Content Pro offers full support for plans that can be customized with many customization options. You can change the price, duration and access level.
KICKCUBE WordPress theme works well with the Pro plugin. This plugin will make your site a powerful, paid content site.
*This plugin does not include the theme. This plugin is optional and can be used to enhance the site's functionality.
Stripe, Braintree, and 2Checkout accept credit cards. Restrict Content Pro supports PayPal Express and Standard, as well multiple payment options simultaneously.
Coupon Codes

Reports.

 

Reports. These reports are easy to use and provide a clear picture of how your membership site is performing.

 

You can easily see the performance of your membership site for the current month or for any other period.

Multiple payments can be integrated with built-in integrations

Unlimited Subscription Packages

You can create unlimited subscription packages.

 

You can create unlimited subscription packages.

 

It is easy to create premium, trial, and free subscriptions.

Members Management

.

 

You can view all active, pending, and expired users, as well as free users.

Simple Installation

Member Emails

Send welcome emails to new members, email payment receipts, and remind them before their account expires automatically.

 

To welcome new members, send them emails with payment receipts and remind them before their account expires.

You can find out more about it here.
Copyright Notices:
This website is not sharing themes by cloning or cracking. We respect the GNU General Public License (GPL) and the hard work of the theme creator. On this website, we share that links are already stored somewhere else on the internet and are not a part of this website. Our website does not carry any responsibility for them. If your copyrighted material has been indexed by our site and you want this material to be removed then contact us immediately. We will remove it in 48 hours.