What are the Top 10 Best Adblockers?
Finding the best ad blocker depends on which device you're using to browse the internet, with ad-blocking tools available for both PCs and mobile phones, and tablets. The very best ad blockers work with multiple devices, giving you a seamless experience no matter where you're surfing. And to make our top picks easier to peruse, we've divided these ad blockers by category.
Have you been searching for the best ad blocker apps for your Android device? If so, then we can make some significant recommendations for you, so that you can get rid of those distracting online ads.
Online advertising is the most effective way of popularizing brands these days; however, it severely mars the user experience. Therefore, we all prefer to keep dodging those ads as much as possible.
Apart from this, ad blocker apps are also highly sought after software tools as they can help us in the following ways:
It can prevent data wastage due to the auto-playing mode of these ads.
They help in improving the overall user experience by enhancing the page loading speed and displaying the entire content of a webpage clearly.
It certainly protects our privacy by reducing the number of HTTP cookies.
They safeguard us against malvertising.
They also prevent the device battery drainage.
10. AppBrain Ad Detector
This app goes beyond its "call of duty" to block ads by predicting which apps on your smartphone are embedded with push ads. This unique approach makes it one of the best pop-up blockers for Android.
It can also detect icon spam as well as recognize apps with major privacy concerns and spyware.
Prime Features:
Get rid of annoying ads with the help of this app.
It identifies apps that have access to sensitive information on your device so that you can remove them like messages, accounts, etc.
It can also detect social SDKs (Software Development Kit) in apps.
It is also capable of detecting other issues on your Android device like Push Notifications.
READ ALSO: Top 10 YouTube Hacks & Tricks You Can Try Out
09. Free Adblocker Browser
This is a free adblocker application for Android which can impart an ad-free and smooth web experience for you. This Adblock enabled browser blocks pop up ads, ad- videos, banners, etc.
Prime Features:
This tool can detect and warn you against malware and adware.
It can block Ad-cookies from third parties.
This tool can also prevent advertisers from monitoring your user behavior.
The application can also prevent battery drainage of your device as well as data consumption.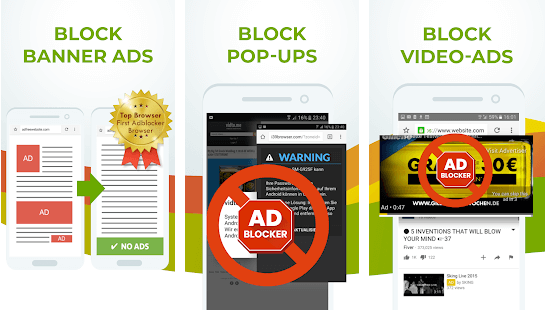 08. AdGuard
This is an ideal tool that is specifically useful for the Yandex Browser and Samsung Internet mobile browser. It is a no-root Android ad blocker app and is open-source software.
Did you know that this app lets you whitelist your favorite websites and content creators? You could add their websites to the list of expectations and prevent it from blocking such pages. You could choose to either whitelist entire domains or specific pages.
Prime Features:
It helps prevent battery drainage of your Android device as well as data wastage.
It secures your browsing experience and protects your private data.
This excellent tool offers custom filters to block ads as per your requirement.
You could choose from 20+ AdBlock lists to block the usual type of ads as well as utilize language-specific lists for blocking ads in different languages.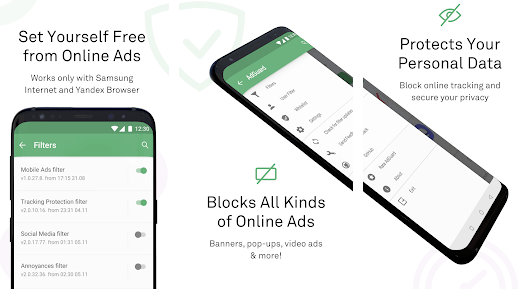 07. Adblock Browser for Android
Irritated with pop ads? Use this brilliant ad blocker app for Android to get rid of them all with a customizable web browser. It enables users to browse faster by making all the ads disappear from the browser.
Prime Features:
With a built-in ad blocker, it keeps all the intrusive ads at bay.
It improves the performance of your Android smartphone by saving battery life.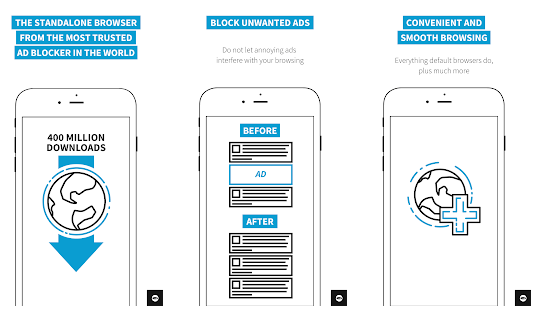 READ ALSO: How To Block Emails on Gmail
06. Opera Mini
The Opera Mini fast web browser is one of the best ad blockers for Android as it is lightweight and very safe. Wondering what it can do for you? Let us see.
Prime Features: 
It can save data for you.
It can block ads.
It allows you to browse privately.
It offers a fast and easy process for sharing files.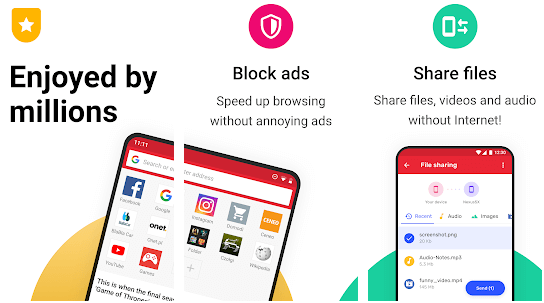 05. CM Browser
CM Browser can prevent imminent malware thefts and gives you a faster browsing speed. You would be able to download the video files faster than on any other browser network. It is one of the best pop-up blockers for Android.
Prime Features: 
AdBlock is a prominent feature.
It offers protective downloading for all the documents that you wish to store.
Incognito Mode is very forceful.
Page translation possibility is present. Translate into any language that you need at that very moment.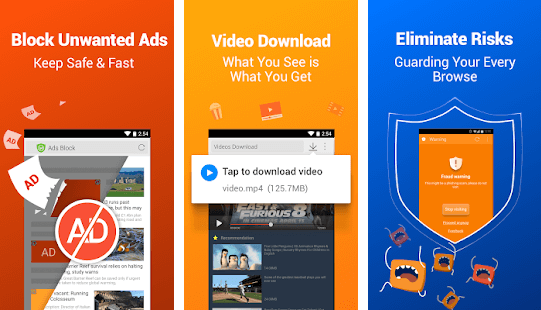 04. AdBlock
AdBlock can be the best ad blocker app for Android given you do not require root access in this application. However, AdBlock requires a web browser to work well for you. Safer, faster, and comfortable in all terms, let us dig out its prominent features.
Prime Features:
Longer battery life with AdBlock.
Blocks spyware, malware, and adware.
Protects you from phishing.
This browser can stop third-party tracking systems in general.
 Webpage loading speed is definitely more with this browser.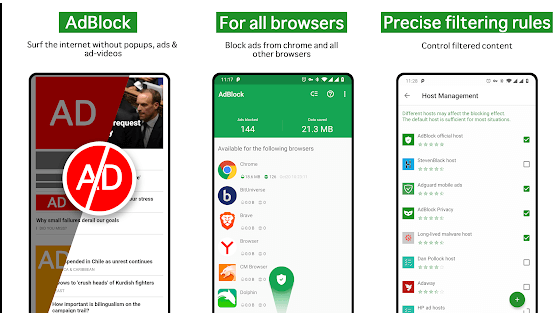 READ ALSO: Top 9 Best Tools to Download Facebook Videos on Windows
03. Dolphin Browser
Dolphin Browser is an effective and one of the best free ad blockers for Android. It has immensely beautiful built-in features and the few prominent ones are being painted below for you to review.
Prime Features:
Quicker downloads are possible with this tool.
Offers personalized searches.
Ready-to-use themes are available.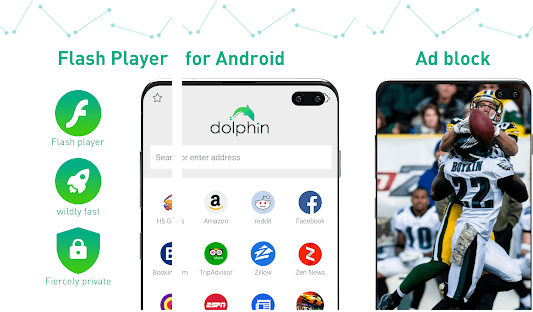 02. Kiwi Browser
The browser is based on Web kit and Chromium. It offers excellent ad blocking for Android. This app is compatible with some of the most popular web browsers in the world.
Prime Features:
Crypto-jacking protection is present for your use in its entirety.
Incredibly strong pop-up blockers accompany this web browser.
Facebook Web Messenger can be unlocked very easily with this tool.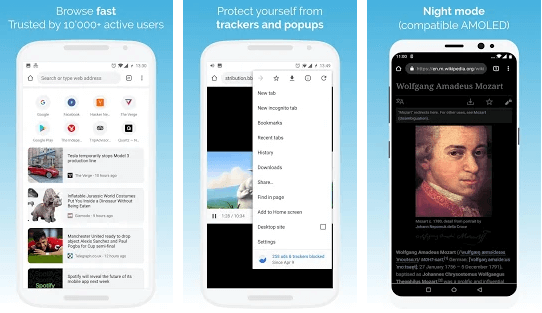 01. Adblock Fast
This is an ideal Android ad blocker app without rooting necessity. Users also don't need to switch to other browsers to use this tool. This app works in Samsung Internet browser version 4.0 and above.
Prime Features:
This software uses an optimized filtering ruleset to fasten webpage loading.
It is efficient in blocking all kinds of ads including 'acceptable ads' unlike other ad blocker apps.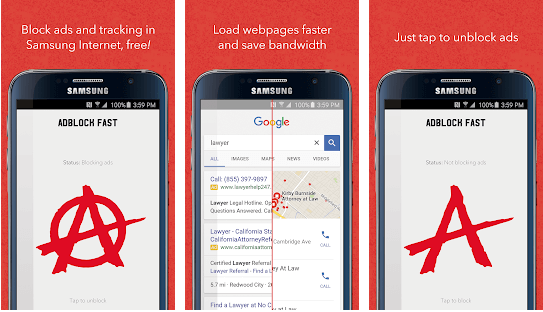 Conclusion:
Before Apple and Google turned their attention to privacy, the best ad blockers and privacy extensions were doing their part to deliver a better web experience. These extensions let you zap annoying pop-ads cluttering up your browser window so that you could browse in peace.
These days, the makers of privacy safeguards have some welcome competition from the folks who make Android and iOS. In iOS 14.5, Apple added the ability to block specific apps from tracking you and more privacy boosters are coming in iOS 15. Likewise, Google has upped its privacy features in Android 12.
Privacy is very much on the minds of the best ad blockers, as they can safeguard privacy as deftly as they stop ads from appearing. They can do away with cookies and other ad trackers that capture data on the pages you view. Along with the best password managers and best VPN, an ad blocker is an essential part of your online survival kit.
Summary:
Here is a quick recap of the top 10 Best Ad Blocker Apps for Android Phone 2021
Adblock Fast
Kiwi Browser
Dolphin Browser
AdBlock
CM Browser
Opera Mini
Adblock Browser for Android
AdGuard
Free Adblocker Browser
AppBrain Ad Detector